Year 2017 / Vuosi 2017
News archives » Years 2007 - 2009 « » Year 2011 « » Year 2012 « » Year 2013 « » Year 2014 « » Year 2015 «
» Year 2016 « » Year 2017 « » Year 2018 « » Year 2019 «

6.12.2010
Independence day group show over 100 labradors - Strongline's Unreal BOS & CC congratulations Lotta and Eeva, at the same show Reserve CC went to Strongline's Quickypiggy!


14.11.2010
Kouvola 13.11.2010 - Strongline's Yahoo BOS and Strongline's Quickypiggy BB2 and Reserve CC, Strongline's Mary-Rose BB3, Strongline's BOB-breeder and finally BIS4-breeder, thanks again for the help this time!

Jyväskylä 14.11- first time out Strongline's Imperial BM4 and Reserve CC and some nice class wins/placements and Stronglines's BOB-breeder


10.10.2010
Unired Retriever Clubs main Specialty 3 nice Class Wins; Strongline's Firestone, Strongline's Mary-Rose and Strongline's Piggywiggy, she was as well BIS-4 Veteran!

Strongline's Firestone


2.10.2010
Kerttu and Salla got another 1st prize in winners class towards Field Trial Champion (cold game), so one more to go - well done girls!


26.9.2010
Nice weekend behind, Strongline's Mr Bean got 1 st prize in field trial (cold game), next summer he is competing in open class.
We did well in Puppy & Veteran show; class wins for Strongline's One Night Stand and Strongline's Happy Go Mellow and jackpot for Strongline's Enjoying Around who went BIS 1 VETERAN (picture
above) just lovely lovely lovely... were the judges first words!

21.9.2010
Today 10 years young my ones in a lifetime dog FIN & S SHOW CHAMPION FI FIELD TRIAL CH (cold game) Strongline's Piggywiggy, hugs and kisses to her!

20.9.2010
2nd place in Finnish Tracking Championship 2010 Strongline's Fuzzy well done Melli and owners!

20.9.2010
Hyvinkää; Strongline's Mary-Rose BOB and second CC, one more to go!


12.9.2010
We had nice puppy meeting - hope you all got some ideas for training and showing!


12.9.2010

Great news again from tracking field Strongline's Fuzzy won united retriever clubs Tracking Championship 2010, we are so proud of Melli, Lusse and Mirja!!

11.9.2010
Strongline's Easy Kiss got first prize in winners class in field trial (cold game) way to go Kerttu and Salla not forgetting "trainer" Jarmo!!

2 Strongline's dogs Hailstrom and Fuzzy gained their places towards Finnish Tracking Championship, well done girls and the owners!
(Vega was 2nd in her regional test with same points as the winner got, so it was close there would have been 3 Strongline's representatives in Championship test)

28.8.2010 Strongline's Quickypiggy BOS getting second CC and one more to go towards dual Champion!


What a weekend!
Kouvola 21.8.2010 BOS Strongline's Yahoo also BM4 with reserve CC Strongline's Ghost Buster
Heinola 22.8.2010 BOB Strongline's Dubbaduurix


What a nice and hot day again in Labrador Club Show; Strongline's Piggywiggy and Strongline's Just a Kiss won their classes and some other did gain nice placement.

And same day my own Strongline's Prime Time did gain first prize in beginners class in Cold Game Test, so she is now on her way towards open class.


We have 2 new Norwegian tracking Champions Strongline's Hailstrom and Strongline's Moneypenny!!


7.8.2010 Mäntyharju Group Show

BM-2 Strongline's Yahoo gaining his third CC at age of 2 years and one day. And Strongline's Mary-Rose going BOS and receiving CC!!

Strongline's Mary-Rose

Strongline's Mary-Rose BOS with CC at photo on right


1.8.2010
Wau - another 1st prize in Cold Game test for Strongline's Quickypiggy during the weekend!!


31.7.2010
2 juniors gained nice results today in Ristiina all breed show; Strongline's Brown got his first CC and sister Strongline's Bling Bling in the same show reserve CC. Well done our chocolates and the owners!

Not forgetting Strongline's Quickypiggy got 1st prize in Cold Game test in winners class. Way to go girls Hulda and Sari again!


17.7.2010 Lammi Group Show
BOB with CC Strongline's Yahoo and girls BB-2 with Reserve CC Strongline's Quinda and BB-3 Strongline's Moneypenny


13.6.2010
Todays some show results: Strongline's Concord BOS & Fin Champion and in other show Strongline's Flashback BOS too!!

Our labrador Speciality show: Strongline's Prime Time BB-3 and Strongline's Dubbaduurix Reserve CC and Strongline's BIS Breeder, well done us!!


12.6.2010
New Champion Strongline's Flashback - congratulations to owners and handler Elena!!


6.6.2010
Strongline's Concord second CC and BOS!!


5.6.2010
Strongline's Mr Bean a new Champion as he qualifield in the field!!


Congratulations to Strongline's Ladybugs and Strongline's Vegas owners for their wonderfull tracking
test wins!

16.5.2010

Fantastic news Golden Track Winner Strongline's Fuzzy!! At the same weekend Strongline's Vega became Tracking Champion!!

Golden Track Winner Strongline's Fuzzy

15.5.2010
Congratulations to "Lola" Strongline's Aloha & Mirja for first CC today!!!!

25.4.2010 Lahti International Show
We are more than happy Strongline's Prime Time was BOB & CACIB & FI CH and finally Group 4th!
At the same show our super handler Jeena was younger age group winner of Finnish Championship qualification in Junior Handler!

Strongline's Prime Time

17.4.2010 Sysmä Group Show
BOB & Group 2nd Strongline's Mr Bean, BM2 & CC & FI CH Strongline's Uzi and BM3 with Res.CC Strongline's Yahoo - well done boys!!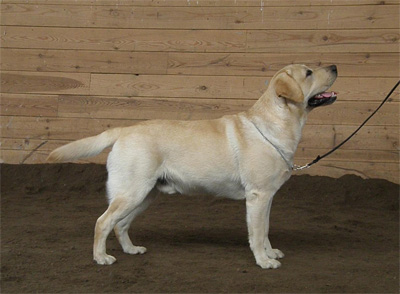 Strongline's Yahoo


11.4. Hope you all enjoyed in puppy meeting and got some nice tips the future
,
special thaks for our super trainers Lotta, Marjo, Janne and Kari!!
10.4. Pertunmaa at Group Show under Harri Lehkonen
Strongline's Mr Bean and Strongline's Prime Time got CC's ... last one for Mr Pekka.
Strongline's Mr Bean won 3rd CC

Strongline's Prime Time CC-winner

5.4.2010 Lappeenranta at All Breeds Show
BOB-puppy Strongline's Firestone and BM3 Res.CC Strongline's Mr Bean


29.3.2010 Korpilahti at Group Show
BM2 Res.CC Strongline's Concord
Incredible day at Kouvola Group Show!!

BOB Strongline's Vanit Fair, BB2 Strongline's Ziquita and BB3 Strongline's Prime Time and BOS Strongline's Mr Bean even he was like a airoplane (3 shows and 2 CC's) and BM4 Strongline's Yahoo.

Strongline's Vanit Fair BOB

Strongline's Mr Bean BOS


Labrador of the year 2009 Strongline's Kiss Kiss, third time on a row !!!!
Way to go girls Ansa and Lotta.


31.1.2010 Kerava Speciality Dog Show

Wau what a day in main labrador speciality show
!
BIS puppy, BIS veteran and BIS breeder!!!!!
And many nice class wins and placements, thanks to everybody!
Strongline's Firestone BIS-puppy

BIS-veteran

BIS-breeder